I've been kind of in love with the concept of Honey Dust since I first heard about a similar tasty powder found on the body of a victim on the crime drama "Bones." Yeah I know – dead people, not sexy, but the concept of sweet tasting body powder totally had me intrigued. I'm not usually one for food in my bed, or on my body; all I think about is the sticky mess someone's going to have to clean up and it damned well won't be me! But I figured I could totally handle a light dusting of sweet powder, and I've always wanted to try out some of Kama Sutra's products too – with a name like "Kama Sutra" it had better be good!
All that added up to me being super jazzed when my Kama Sutra Love Essentials Kit arrived in the mail. In the interest of sharing the joy, I opened it up right in the office so everyone could admire my new toys and the packaging. Everything was nestled neatly into this little cardboard box with a kind of dark jungle motive on it. Of course I grabbed the feather duster first and gave myself a little experimental pat.  Nice, but I didn't see it as a powder applicator – way too sparse at the tip and too compact at the bottom.
Of course I wasn't really that interested in the feathers, so the next thing I pulled out of the box was the satin bag. I don't know what I was expecting when I opened that bag but it definitely wasn't what I saw, a plastic baggy with a twist-tie at the top full of whitish powder. That was a rather unsexy way to get my first batch of body dust. Definitely not for long term storage, was I supposed to use it all in one go and then toss the thing? I'd have had to upend the whole baggy in the shower and then been frosted white from top to bottom – and looking like a rather unfortunate victim of an "I Love Lucy" parody is not what I call the sex.
Still, the powder tasted perfect; sweet but un-identifiably so. Something that when added to skin gives a sweeter taste to the flesh and conjures up whatever pleasant flavor you or your partner can think of. But if I thought that of the powder, I was absolutely floored by an unexpected treat in my package – the Oil of Love. An edible massage oil that was indescribably sweet, but not intrusive – which my playmate thought tasted like coffee and I couldn't identify.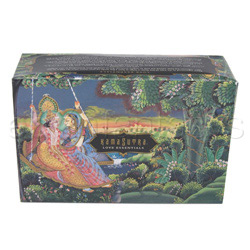 I hadn't planed on playing with anything sticky and sweet and potentially a mess to deal with later, but decided I wanted a massage after my shower to wash off the remaining dust and gave it a whirl. Points for being an excellent massage oil, a little goes a long, long way, we didn't even empty the tiny sample bottle. Extra bonus points for that gentle sweet flavor that enhanced but didn't overpower. But where this little treasure really shined, was what it did for my skin.
I mentioned I tried it after my shower, which mid-massage I kind of regretted because here was the sticky mess I'd always feared and wanted to avoid. I definitely felt sticky for a good bit afterward, but I decided not to waste the water on a second shower (it was a weekend I could damn well wait for the next day to have a shower). Well after sleeping in the stuff I woke up with skin that didn't taste at all sweet anymore, sheets that weren't stained in the least (ok sopping wet in exactly one spot for reasons I'll get to later) and – skin so soft, moisturized and smooth I'd have thought I spent the whole night gently working in some of my solid jojoba butter if I didn't know better! Sweet oogly moogly, we have a winner! If I didn't fear being eaten by bees on my way to work, I'd probably insist on slathering that stuff on every day!
Ok, onto the wet spot – my Love Essentials Kit also came with a little squeeze tube of water based lube. It's very easy to over squeeze on that little tube in the dark in the midst of a testing frenzy, ok. Use with caution. No it won't stain, but if you pour the whole damn tube on your bed the way I did, it will take a really, really long time to dry. Other than that, I've got no complaints on the lube.
Try out the essentials of love with the Love Essentials Kit from Kama Sutra!